Dollfie Dream Sister Kizuna AI Unboxing and Thoughts
The Dollfie Dream girls Towa and Uzuki have spotted there's a rather large delivery from Japanese second hand otaku goods store Mandarake…
Dollfie Dream Dynamite Towa (mid-length blue hair) instantly recognises that one box is rather Dollfie-shaped…
Could this mean there's a new Dollfie doll in there?
Indeed there is! It appears to be the Dollfie Dream version of world famous vTuber Kizuna AI! Like Uziki (wearing Miku Hatsune hair) she's also a Dollfie Dream Sister. This means she's slightly (but not much) shorter than a regular Dollfie Dream ball-jointed doll.
Let's not waste anymore time and instead get to unboxing our new girl!
Inside the tubular box is Kizuna herself, a package of clothing and accessories, and a doll care brochure. In the excitement to unbox the new girl, I almost forgot that she also came with a wig. That actually fell off the back of her doll carrier when I picked it up.
Needless to say, like just about everything else from Japan, Kizuna comes beautifully packaged and she survived the gruelling 10,000 Km journey from Japan to the UK (with transits at Hong Kong, Bahrain, the East Midlands and London).
Kizuna herself comes with her trademark pink and white outfit. Unlike many other Dollfie dolls she doesn't come with any accessories. Incidentally, she comes with closed/fist/stone hands so she couldn't hold any accessories anyway! I'm not sure if I'll keep her with these hands forever, but it is kind of nice that different dolls come with different hand types. My first Dollfie (Towa) came with open hands, whereas second girl Uzuki Shimamura was supplied with holding/gripping hands.
Enough about hands, let's talk about Kizuna's outfit itself…
First of all, Kizuna is fairly unusual (I think) in that she is actually supplied with a bodysuit. I guess this is especially unusual given that her outfit is predominantly white, so would be less likely to stain the doll's soft vinyl body.
Also unusual is that her bodysuit is a two piece. It's constructed in this fashion so that the vinyl of her soft vinyl midriff is exposed, as it is in her default vTuber costume.
I should just mention that this bodysuit is really very nice indeed. It's made of a very soft (but probably quite delicate) material and is much nicer than the bodysuit I bought for my first ever Dollfie Towa.
Also it's not immediately obvious in the photo above but the top part of the bodysuit has a zipper. I wasn't actually too sure which way around the top went but eventually I decided on putting the zipper on the back.
Another clothing highlight for me is Kizuna's top. This is beautifully packaged, as you can see in the photo below. It also has a really nice and soft lining.
The colour scheme of white, pink and black is certainly eyecatching and Volks have really captured the essence of this famous virtual Youtuber.
I guess another highlight of the outfit are her thigh-high boots. These have a back zipper which makes them easier to put on. I've never found any Dollfie footwear to be particularly easy to put on my dolls, and these were fiddly, but not too fiddly.
As I mentioned previously I almost forgot that Dollfies come with a wig, and I completely overlooked it in my rush to unbox Kizuna.
Here it is and I guess the significant thing about this particular wig is that it's a rare Volks wig that has highlights.
Now many people complain that Volks' wigs aren't particularly high quality, and that there are much better quality 1/3rd sized doll wigs to be had from sellers such as Cotin Doll.
Personally I think Dollfie Dream Dynamite Standard Model Towa's default wig is pretty atrocious quality, even though I think the colour and style look totally awesome on Towa. But the wig is just soooo thin!
I've had no such issues with Kizuna's wig – it's very nice indeed. The brown colour is also a fantastic complement to her blueish-green eyes.
I'm not sure if I'm keen on her highlights but I will probably get her an alternative wig (and outfit). I think I'll stay with brown because it looks great on her.
So here's Kizuna with her completed default vTuber outfit:
I think it's a pretty decent outfit. I'd love to know what you think of Dollfie Kizuna, so do please leave a comment below.
My main reservation about Kizuna is that her outfit is made almost entirely from PVC vinyl, and this pleather material is known to not age well. If you read my post about Pureneemo witch Aika then you'll discover the horror story that was Aika's disintegrating boots.
I think I'll take as many photos of Kizuna in her outfit as I can, that way I can remember her in all her former glory. After that I'll store her outfit very carefully, and hope for the best.
Recently I did see a Kizuna outfit appear for sale on eBay. I was tempted but there's no guarantee that outfit wouldn't disintegrate either. My Aika Pureneemo was sat in her unopened box for 10 years, but her vinyl boots disintegrated all the same.
I should also mention that because the vinyl material is fairly stiff, she's not so easy to pose while she's wearing it compared to my other dolls (in the photo below Uzuki is sitting behind her).
For this reason I'll maybe see if I can find Kizuna some different outfits to wear. I think Kizuna is actually quite rare in that Volks have only ever made her a single outfit. In this blog post there are also a few photos of Uzuki Shimamura, and I have both her Smile & Sweets outfit as well as the school outfit she's wearing in the photos.
Here's Kizuna in the Volks Daughter of Evil outfit. I'm sure you'll agree she looks stunning. Of course she's NOT Kagamine Rin, but she does a very good cosplay version of her don't you think?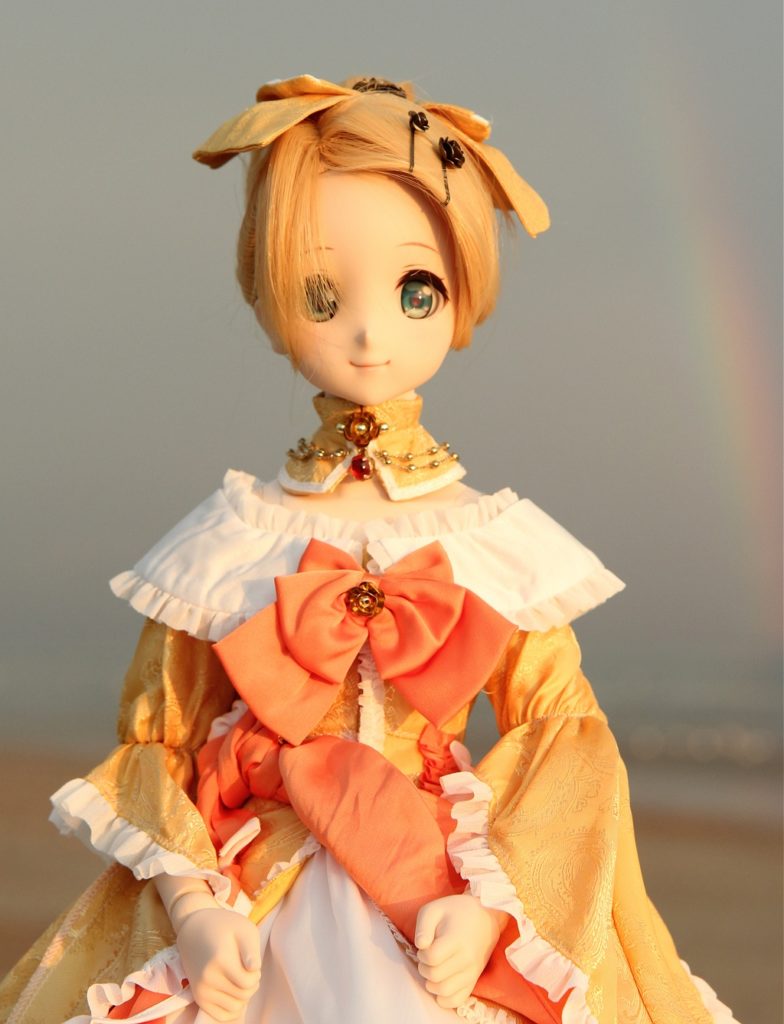 I don't know if Volks will ever release an alternative outfit for Kizuna, but I suspect not. Kizuna's popularity peaked in around 2018. While at the time of writing she had over 3.4 million subscribers on Youtube, I'm not sure she'll ever do anything to match the popularity of her seminal song aiaiai.
As to Kizuna herself, I think she's a pretty decent Dollfie Dream. I do like the Dream Sisters on their new DD-f3 frame. Like Uzuki, Kizuna is super poseable and she's a great height if you already have a standard Dollfie Dream (like Miku Hatsune) or a Dollfie Dream Dynamite girl (like my Towa).
I do really like her face-up. Her cheek makeup is significantly more subtle than Uzuki Shimamura's is. Her smile is also slightly more subtle.
I do also like her eye colour, even if I'm not entirely sure if they're blue or green.
I get the feeling that my Kizuna is a happy, slightly introverted girl who's happy to go along with whatever Towa and Uzuki have planned.
Now let's think about the possible future value of Dollfie Kizuna AI.
Investing is a hobby of mine, although I consider my dolls to be working girls and not investments I keep in the box with the intention of selling on at a future date.
I'm way too sentimental to sell any of my dolls. Heck I even hoard train tickets.
If however you do want to keep Dollfie Kizuna as an investment then what are her prospects?
Dolls are valued according to:
How desirable they are with Dollfie collectors.
How desirable they are with non-Dollfie collectors.
How many there are in the world.
Dollfie Kizuna has her devotees but I don't think she's hugely popular with Dollfie collectors on forums such as Doll Dreaming.
Kizuna does appear to have quite a large cult following. For example she's popular enough to have had a Figma made of her, and there are also a few other figures of her. She's nowhere as popular as Re:Zero Rem is though.
As for the number of dolls made – it's difficult to assess this as Volks don't release the numbers of how many of each doll they manufacture. It's safe to say that at the time of writing in late 2022 Kizuna has become pretty rare on second hand store Mandarake. A few months before I bought her there were 4 on sale, but by the time I actually wanted to buy her there was only one doll available. Certainly if you want to acquire her then it's better not too wait too long lest she become a super-grail Dollfie like Kagamine Rin or any of the characters from Re:Zero.
As for investing in her, I'd say the main issue with Kizuna is how long her outfit will last – even if it's never been opened. While her outfit is packaged very carefully and contains an abundance of humidity absorbers, there's no guarantee that her outfit won't fall apart in its box like my Aika's boots did.
If you want Kizuna to put her on display then I'd recommend being very careful when putting her outfit on, and try not to handle her too often. The material is also vulnerable to stretching, so try not to move her limbs too much.
Yayoi AI
I've had Kizuna dressed as Kagamine Rin for quite some time. In the meantime I thought it would be interesting to see if Kizuna's outfit would fit a Dollfie Dream Pretty (DDP). So here is DDP Yayoi Takatsuki cosplaying as Kizuna AI: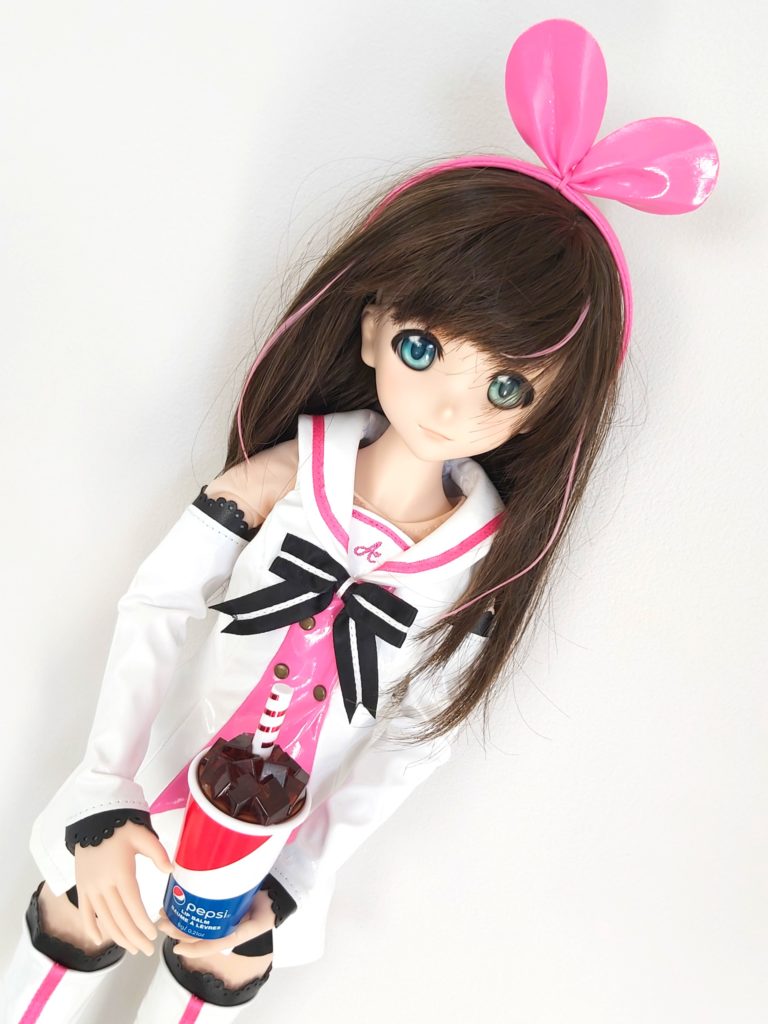 All in all I think she makes a better Kizuna than I thought she would. I guess Yayoi has a pretty similar eye colour, which helps. The outfit fits the smaller DDP frame pretty well, with the main issues being:
Kizuna's bodysuit is a little baggy. I had the most issues with the arms, which were a lot longer on Yayoi. This made putting Kizuna's arm sleeves on her the most difficult task of the dressing operation. I think I'd maybe redress her without the top part of the bodysuit. I'm not sure if this outfit has any staining issues so it might be safe to do so.
I believe Yayoi's dedicated DDP head might be a little smaller than regular Dollfie heads. The pink bunny ears don't fit her so well as they do on Kizuna's head.
If you have any comments, questions or suggestions about Dollfie Kizuna AI then please do leave your comments below.