Things to See and Do in Tokyo's Hamamatsucho District
Hamamatsucho station on the Yamanote line is the nearest station for the Tokyo Tower and Zojo-ji temple.
Tokyo Tower
The Tokyo Tower was built in 1958. Any resemblance to the Eiffel Tower is purely coincidental. Besides, the Tokyo Tower is taller, and like most tall structures in Japan is painted in alternating red and white colours: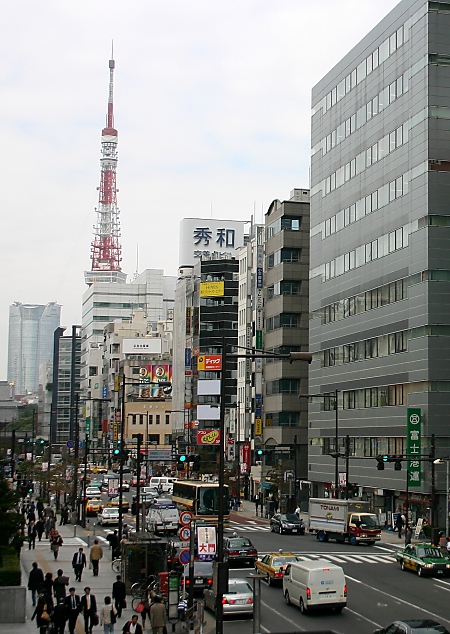 Considering that it is one of Tokyo's biggest tourist attractions, I was surprised that the crowds for the elevators to the observation decks were quite modest. Of course if you want to go to any major tourist attractions in Japan then you'll generally find them much less crowded on weekdays. Avoid tourist attractions at all costs on public holidays! In most of Asia attractions get insanely crowded on national holidays.
Anyway, the Tokyo Tower has two observation decks, at 150m and 250m. Naturally it costs more to go to the 250m high observatory, but it is worth it for the vastly improved views the extra height affords. There are lifts to the observatories, but if you are feeling energetic, the staircase is often open to the public as well.
Note that if you have only a brief time in Tokyo and just want to see the metropolis from above, then the Metropolitan Government Office building in Shinjuku offers free access to its observatories. The twin observatories are only a short(ish) walk from Shinjuku's main station. They're also vaguely signposted.
Below is the view from the Tokyo Tower toward Roppongi (the large tower on the left) and Shinjuku (in the distance on the right):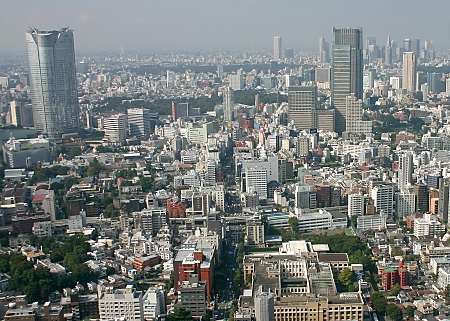 Besides the observatories, there are *lots* of gift shops in the tower selling more Hello Kitty! merchandise than you could ever believe, a number restaurants and a rather good aquarium (although I'm not sure if it was an aquarium or an aquatic retailer – some of the fish had hefty price tags attached to their tanks).
Zojo-ji Temple
Near the Tokyo Tower is the Buddist Zojo-ji temple, which is one of Tokyo's more famous temples: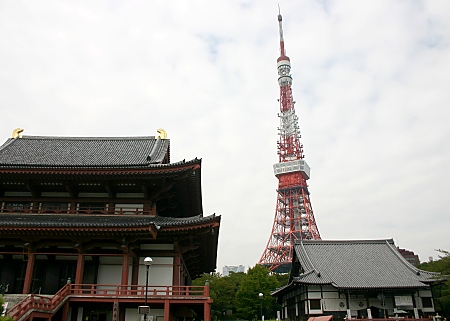 The temple is dedicated to Jizo, the Buddist patron saint of travellers and departed children.
In the temple grounds is a cedar tree planted in 1879 by the 18th president of the United States of America, Ulysses S. Grant. Amazingly, the tree survived both the great earthquake of 1923 and the firebombings of Tokyo that took place during the closing stages of the second world war.
The rows of Jizo sculptures adorned with bonnets and with little windmills that blow in the breeze is an especially touching sight: