Can't Afford Dollfie Dream Rem or Ram? Buy This Instead!
Dollfie Towa really loves the Re:Zero Starting Life in Another World anime series. She's desperate for us to get Dollfie Dream Sister Rem, or Ram, or maybe both.
But look at these prices on Japanese second hand otaku goods store Mandarake: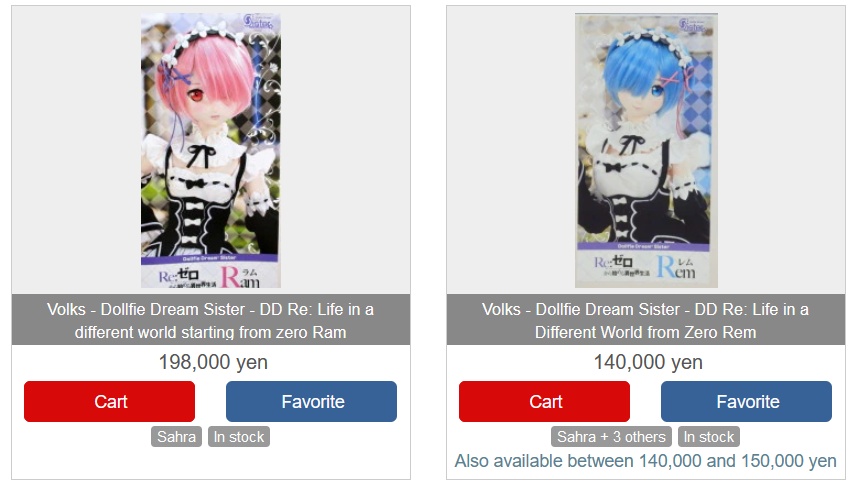 I thought Rem was everybody's favourite wifu, but Ram is usually more expensive than Rem. At the time of writing, Ram was priced at 198,000 Yen (an astonishing $1434). Maybe Volks didn't make so many Rams compared to Rems.
So, what do we do?
If you already own a Dollfie Dream, or a Smart Doll or even some other type of 1:3rd scale doll, then why not just buy a Re:Zero maid outfit and make your own Rem or Ram?
Sadly it seems the official Volks Re:Zero outfits don't often come up for sale by themselves. But there is an alternative.
There are a couple of AliExpress sellers who sell Re:Zero maid outfits for ball jointed dolls. Here's a screenshot of the listing I ended up buying mine from. Sadly the vendor no longer sells the outfit so I haven't provided a link.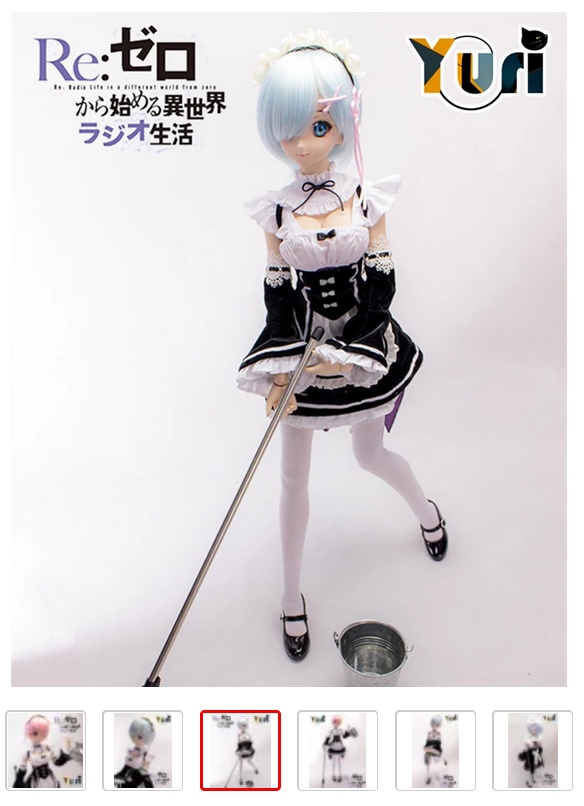 To make our girl as authentic as possible, I opted to go for the seller who also supplied the black Mary Jane shoes the sisters wear in the anime.
So, Towa. Which wig should we go for? Red or blue?
We decided to opt for the blue wig. The original plan was to dress one of the Dollfie Dream Sisters girls in the outfit as blue-haired Rem. If the outfit fitted Towa then we would order a second outfit so she could cosplay as pink-haired Ram.
I submitted the order, and waited. A couple of weeks later, a small box arrived. I thought it was a little too small for an entire outfit. Sure enough it only contained the wig.
I waited for the outfit to arrive. And waited. And waited.
Eventually I found out I hadn't actually read the message from the vendor that asked us what size of doll we had.
Oops…
After much more waiting, the outfit arrived.
At first I didn't think too much of the outfit. I paid a lot of money for it, but it looked very home made, and not good at all. But once I put it on one of my girls, I had to admit, it didn't actually look that bad. Here's vTuber Kizuna AI modelling the outfit and wig.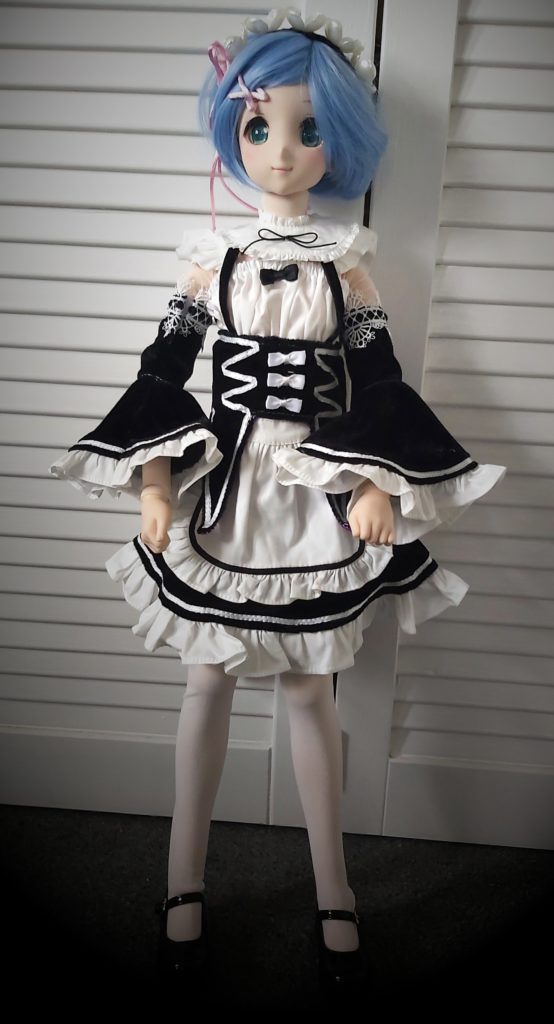 So let's dive in and have a detailed look at the outfit.
Main Re:Zero Outfit
Well, it's the right colours and the tails do at least have the purple interior lining.
When I first saw the outfit I thought it was amateurish and looked homemade. Once I put it on a doll I realised it wasn't actually too bad.
Initially I put it on a DDS and it looked quite big for her. I did specify DDS size but maybe they just made them to DD size. At the time of writing I don't have a standard DD to try it out on.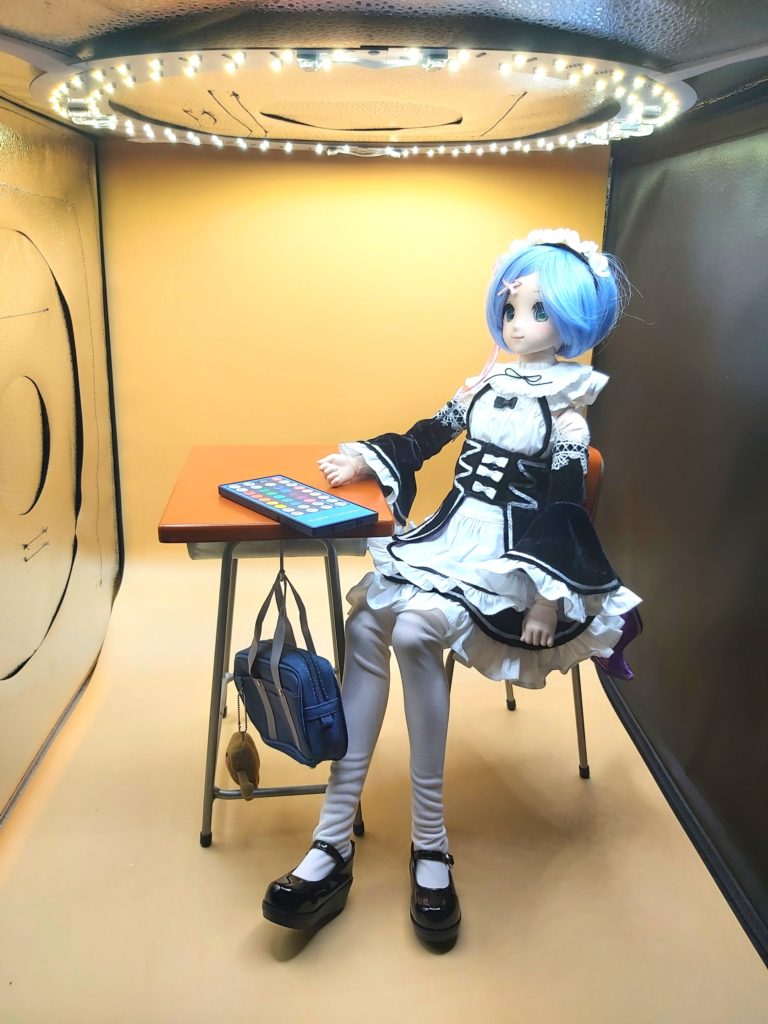 The good thing is that this outfit is naturally quite baggy and I found out it easily fitted Towa. In fact it looks a little baggy on her. The largest sizing issue is the black straps are way too long for the outfit. If I knew anything about dressmaking then I would shorten them.
If you look closely at my outfit there are some subtle differences with the genuine thing:
There is no black stitching along the bustline or the top of the arm sleeves.
The white apron is too big and the wrong shape.
The front tails of the waistcoat are too long.
The white frill of the dress is too long. The same goes for the arm sleeves.
Incidentally there is a white bow that clips onto the back of the maid dress with a safety pin. This looks pretty good, and my only observation for this is that the bow is a little larger than the bows my Pureneemo girls have on their outfits.
Wig
If I'm honest the wig's rubbish. It seems too small for my Dollfies' heads, so I don't know if it was made for Smart Dolls or some other type of BJD.
Towa actually refused to wear the blue Rem wig at all and wore her Ikku Tousen red wig for a while. However even though she has the correct default eye colour to cosplay as Ram, she just didn't look right as Ram. Maybe Volks were on point when they gave Towa red eyes with a bubblegum blue wig as her default appearance.
So Towa went back to wearing her current favourite Snow Miku wig. Is she now Rem or Ram? Let us know in the comments below!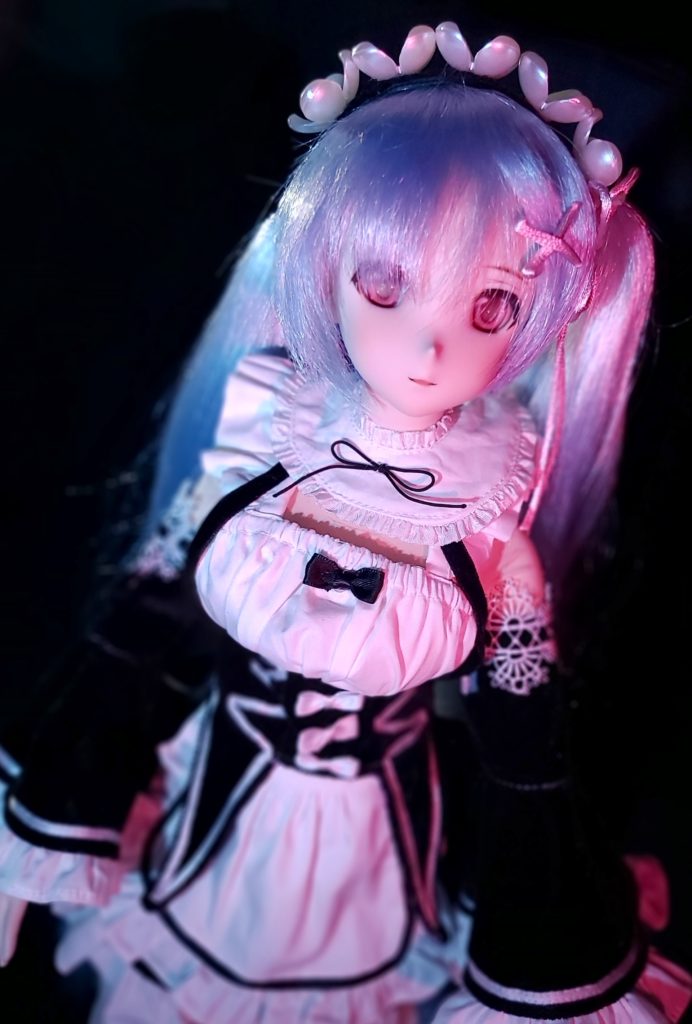 Long Socks
The outfit came with a pair of very long thigh high socks. They're very long and are quite baggy, even on Dollfie Dream Dynamite Towa's chunky thighs. I'm not sure what BJD they're designed for. I believe Smart Doll legs are much thinner than Towa's so they probably wouldn't fit a Smart Doll that well either.
My other grumble here is that in the series itself I'm pretty sure the girls wear stockings and garterbelts (or crotchless pantyhose). This is what the Azone Pureneemo versions of the dolls wear. In the photo below Kizuna is holding Pureneemo Rem (re-release version). Note that I haven't yet put mini-Rem's hairpiece on, as it's a really fiddly job.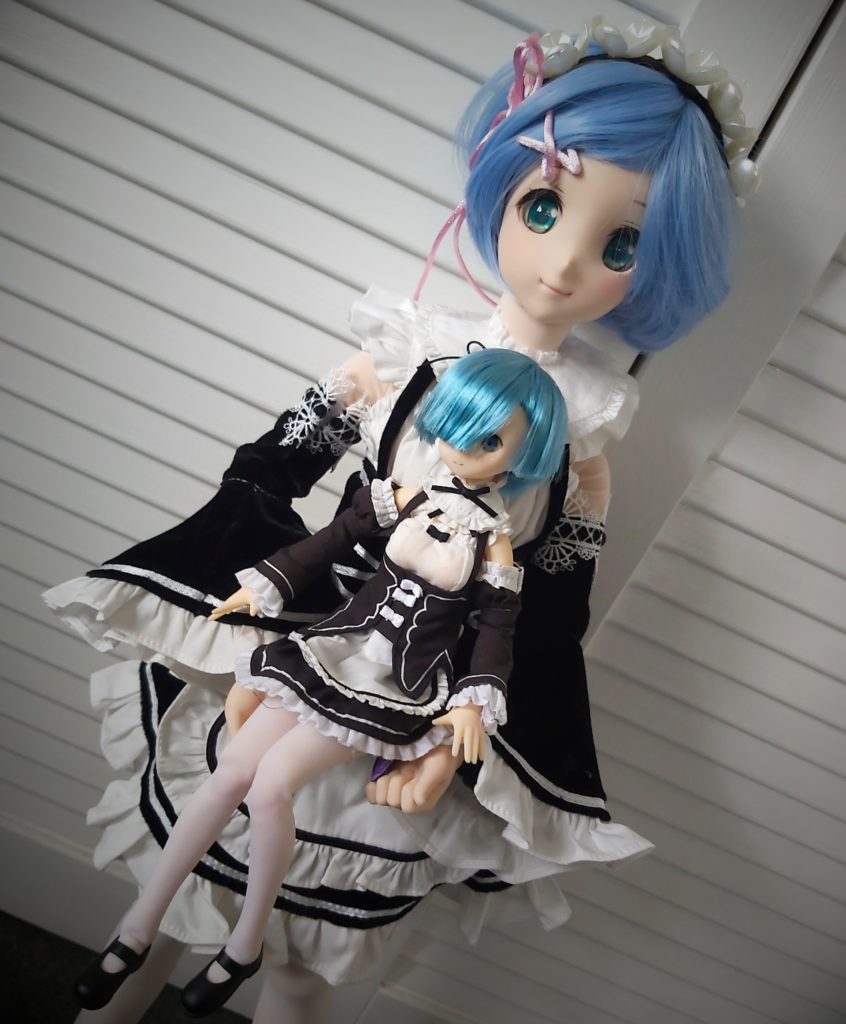 Headwear
The headwear looks very homemade and not that much like the version that comes with the genuine Dollfie Re:Zero girls. Towa also says it's a very tight fit and she's not sure if it should fit in front of or behind of her ears.
Shoes
The shoes are of the platform wedge variety. They're definitely not like the kitten heel Mary Jane shoes the girls wear in the TV series. On the other hand they are very good quality and much better than most of the other shoes I've bought from AliExpress. So I could see us using them with other outfits.
If you buy this Re:Zero and want the identical Mary Jane shoes the girls wear in the anime then they are possible to buy but they will take some hunting down.
Alternative Re:Zero BJD's
I should just mention that if you're desperate to get your hands on a pair of Re:Zero ball-jointed dolls then you should definitely check out my review of the Azone Pureneemo versions of the girls.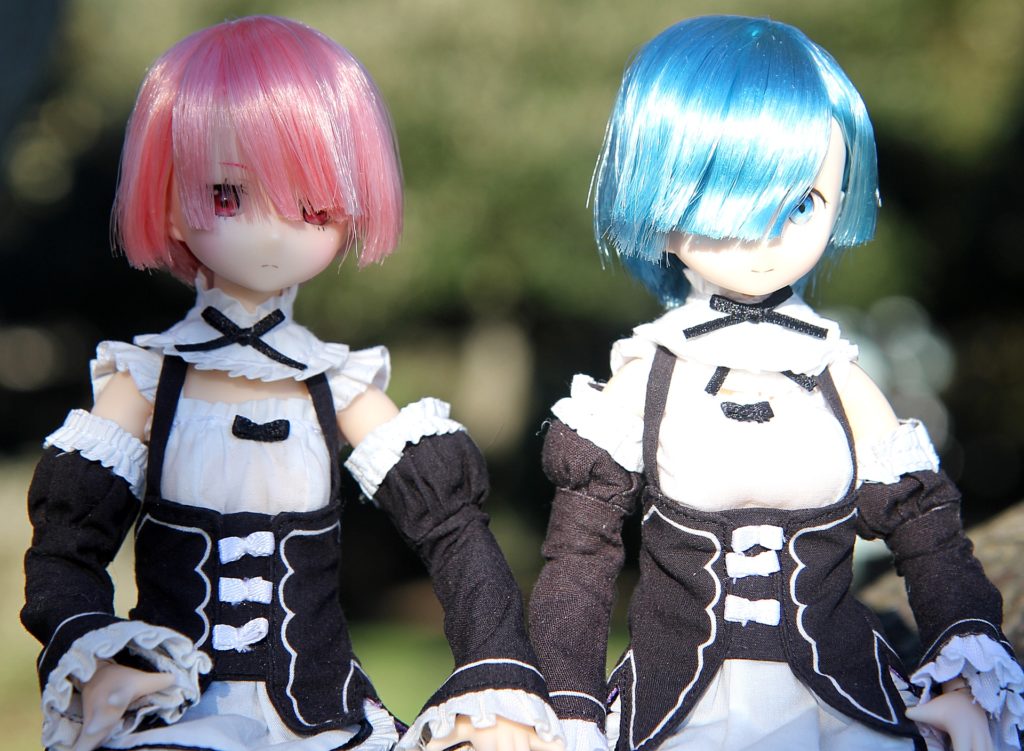 These dolls are really adorable. They're much smaller than Dollfie dolls (about half the height of a MDD). However they're super poseable and look really great sitting on my bookcase. Incidentally there is also an Emilia available too. Just bear in mind that Azone have re-released the Re:Zero girls and the second version of them have inset eyes plus outfits that are much more true to the original anime versions.
Summary
I think in summary I'd say this outfit has a definite home made look. If you want to imagine that your dolls are making their own cosplay outfits then it's a great outfit to have in their wardrobes.
Having said that, I think my girls actually look pretty good in the outfit. If I took Towa to an anime convention dressed in the outfit people would 100% know who she was cosplaying as. If I took DDS Kizuna AI in the Rem outfit then I think she'd fool most people into thinking she was the genuine Dollfie Rem. Maybe Towa would fool people into thinking she was Ram, although some older attendees might notice that long Ikki Tousen wig!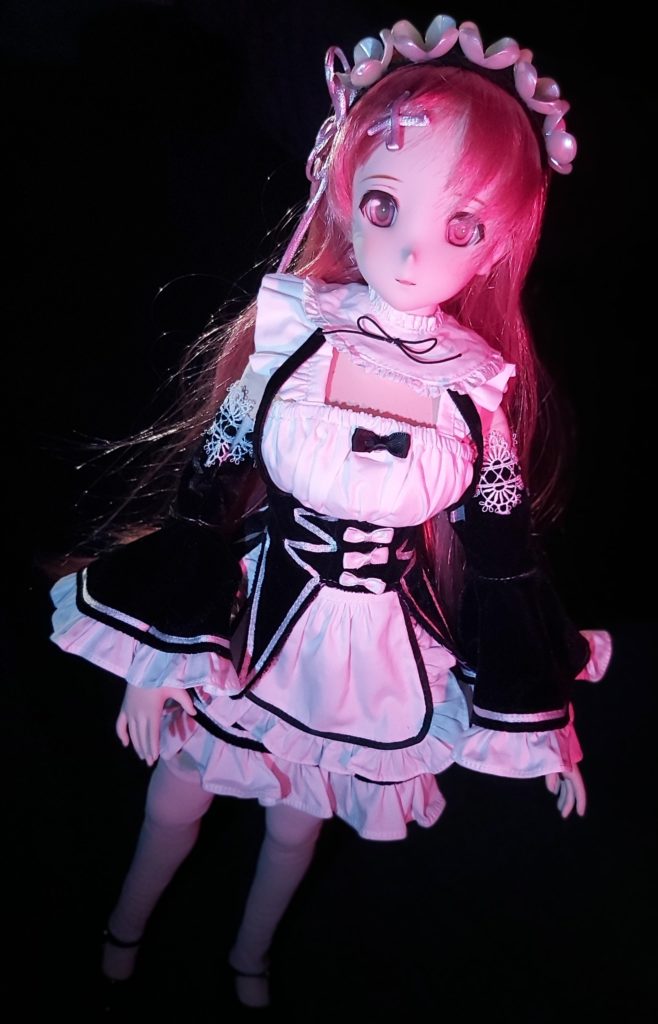 I am not sure I would buy further Dollfie outfits from AliExpress. The major issue for me is price. AliExpress is now astonishingly expensive for us UK buyers, and that's probably the same for buyers from a lot of other countries now. I guess their pricing is largely pegged to the dollar. The vendors are probably also unaware that we are now automatically charged VAT (at 20%) on our orders. I've actually switched to buying outfits from Volks Japan and Etsy. To take an example of doll shoes, they're about the same price when ordered from Volks Japan as they are from AliExpress, but the Volks ones will be guaranteed to fit well and be of very good quality.
Who knows, we might one day acquire the genuine Dollfie versions of Rem and Ram (and maybe Emilia too). But for now whenever we watch Re:Zero we'll have to be content with our cosplay version of that iconic outfit.
How badly do you want Dollfie Dream Sisters Rem and Ram? Would you get both, or do you prefer Rem or Ram? Do let us know in the comments below.