Thoughts on the Dollfie Dream Miku Hatsune Empty Sekai Outfit
I'm always wary of doll outfits that are so complicated to put on that they actually come with fitting instructions.
This outfit has a further complication – eye surgery is involved since the outfit comes with two eyes.
Yikes!
In case you haven't guessed this is the Miku Hatsune Empty Sekai outfit. This is apparently part of the Colorful Stage vocaloid era.
Now I'll come clean and say that I don't yet have an actual Miku Hatsune Dollfie. I do however have Dollfie Dream Sister Uzuki Shimamura,. She's a little shorter than Miku but with a medium rather than small bust. The packaging assured me that the outfit would fit on her, so let's do a dressup.
First a quick look at the outfit. I was lucky to find it still for sale on the UK Dollfie Friends store long after it has sold out on the Volks Japan store. If you really want the Empty Sekai outfit then periodically check Volks Japan because they occasionally put old outfits back on sale again. Failing that, second hand stores such as Mandarake might stock the outfit from time to time.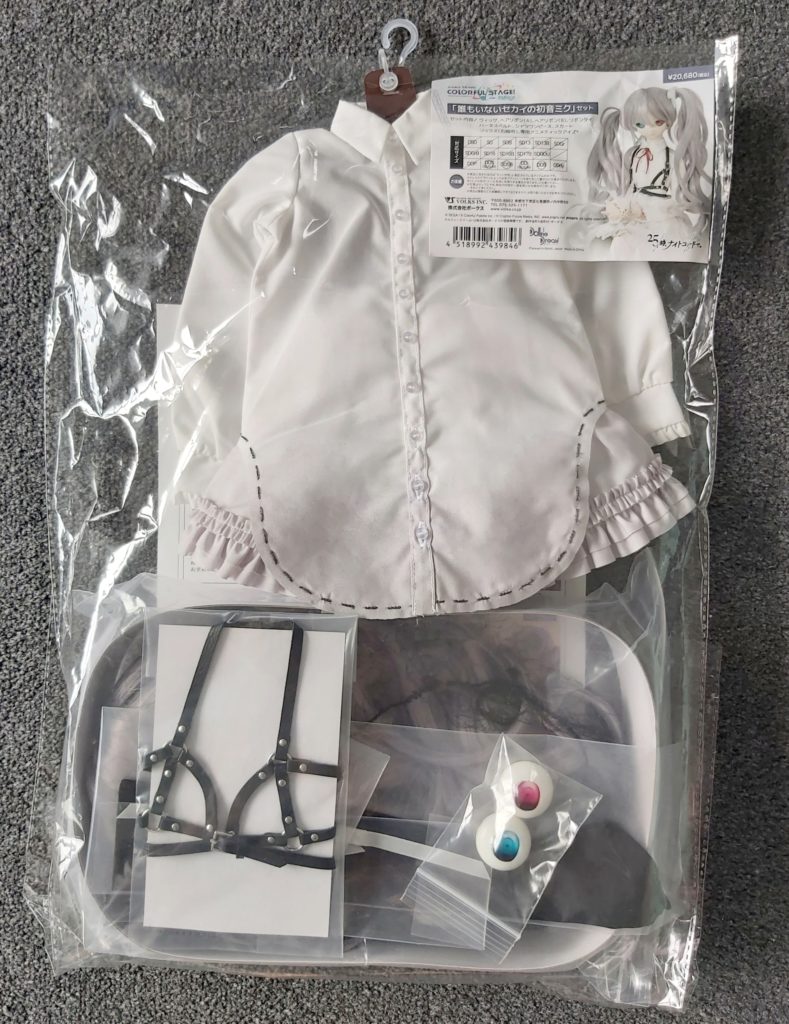 The outfit wasn't particularly cheap, but it does come with quite a few items: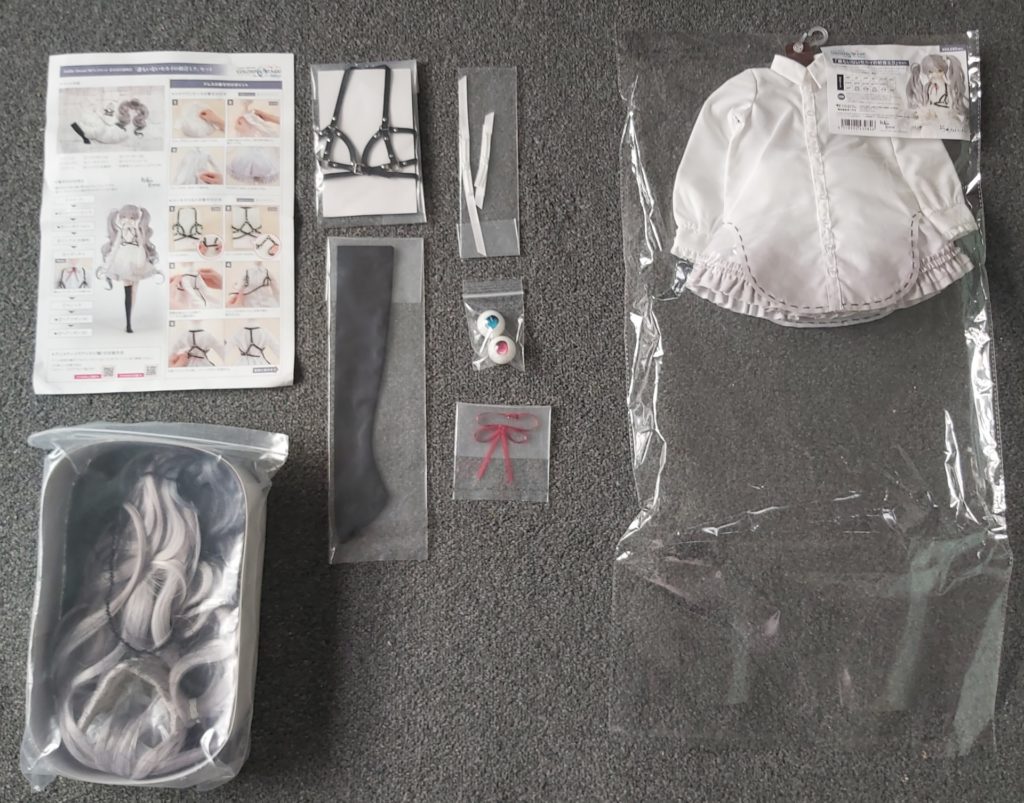 From top left:
Fitting instructions.
Body harness.
Hair bands (pack of two).
Black sock.
Non-matching eyes.
Red necktie.
Wig.
Shirt and skirt.
The fitting instructions mainly cover fitting the body harness and the hairbands. I expected fitting the hairbands to be complicated but in actual fact they were really easy. They just bend round Miku's twin-tails.
The body harness was not quite so easy to fit. I'm always wary of fitting these types of items onto dolls since the leather material can be quite fragile, especially with age. This harness was quite difficult to fit because the instructions are printed in Japanese (which I can't read) and the instructions are also really tiny. I'm not sure I actually fastened the body harness correctly around Uzuki's body. It may be because she's slightly larger than Miku would be, so the popper wouldn't actually physically fit where it's supposed to. Fortunately all that action happens around the back of the body, so it's not too noticeable.
The rest of the outfit wasn't too difficult to put onto Uzuki. The shirt uses a mixture of poppers and buttons. I tend to prefer outfits that use poppers, since buttons can be quite fiddly, especially ones as small as these.
I didn't replace Uzuki's eyes with the Empty Sekai eyes. Dollfie eye replacement is quite a complex operation. Uzuki is also a real favourite of mine, and I would hate to ruin her head. Maybe I'll wait in case I buy a vintage doll in poor condition who already has empty eye holes or missing eyes.
So here at last is Uzuki wearing Miku's Empty Sekai outfit: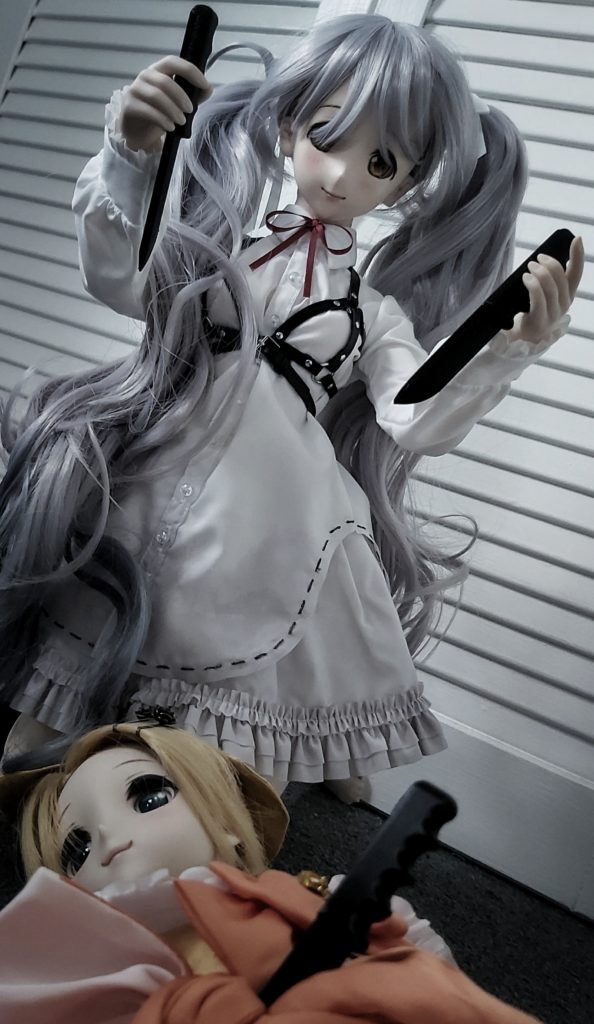 The one sock thing is kind of weird. I put Uzuki in her bodysuit in case the sock stains. I supposed I could have put a white sock beneath the black one. I don't think the rest of the outfit would stain anyway, given that it is predominantly white.
Definitely the best thing about the Empty Sekai outfit is the grey wig. It's an absolutely phenomenal Dollfie Dream wig and an absolute essential if you're a Miku fan or collector. I think I prefer it to the Snow Miku wig we bought a couple of months earlier.
Even though I don't have an actual Dollfie Miku, I'm quite pleased with how this outfit looks. I'm pretty sure the wig will become one of our most worn. I think the outfit would also look pretty cool paired with a pair of black biker boots. I know that Uzuki is looking forward to many more scary photoshoots while wearing this outfit. If we ever acquire an actual Miku, then I don't know if Uzuki will hand over this outfit to her.
Would you buy the Empty Sekai outfit for your Miku doll? Or is it just too weird? Let us know in the comments below!